Press:

" Keram Malicki-Sanchez is on stage and all dressed up with every place to go. His floor length dress has been chosen for its DayGlo-friendly properties and the boy's a psychedelic vision...a one-man cultural blitzkrieg, active in music, theatre, film, philosophy, writing and publishing. Fans of his band Blue Dog Pict are enthusiastic to the point of being cultish. "
- Lenny Stoute - Toronto Star

"Keram Malicki-Sanchez is a true renaissance man. "
- Karen Pace, Daily Alternative Music News
Videos

Watch an exclusive video of Keram playing live (Genghis Cohen, Los Angeles)

See all of Keram's videos at YouTube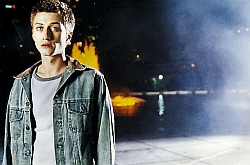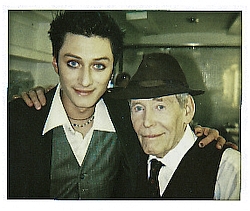 This is the Constant Change profile for our founder Keram Malicki-Sanchez.

For song and video downloads, pics and updates visit: www.keramsongs.com



Get your very own copy of Keram's solo CD now!

To purchase other albums by Keram visit the Constant Change Store.


Get on Keram's personal email list!
Biography

Born May 14th 1974, to an Ecuadorian Mother and a Polish father, Keram became quadrilingual by the age of thirteen in English, Spanish, Polish and French. After studying ecclesiastical and classical choral music through eight difficult years at a private Choir School in Toronto, Canada, he took three years off and started an independent record label (1993), Constant Change Productions, to accompany his already three year old band/community - Blue Dog Pict .

When he was five years old Keram was already rehearsing for his first large-scale experimental theatre production. " Becoming " was an epic multi-media exploration on the assimilating patterns that take hold of immigrants into strange new lands. The production was spear-headed by Elvira Sanchez de Malicki, his fiery mother and mentor who would later become instrumental in stoking his passion for the creative arts. When he was seven years old, Keram landed the lead role of Oliver! in a four month run at the local Limelight dinner theatre, whose cabaret-like atmosphere and eccentric team would burn an irrevocable perception of the world in his character.

Keram spent his teenage years performing radio dramas for CBC radio Canada, as well as a slew of controversial theatre productions including " Mame " and " Sister Mary Ignatius Explains it All For You ". He spent many of his childhood years creating roles on stage at Young People's Theater in Toronto, Canada. Among them, the box-office smash by Mordecai Richler's " Jacob Two-Two and the Hooded Fang "and the role of Jason in Jim Betts adventure trilogy: " The Mystery of The Oak Island Treasure ", " The Haunting of Elijah Bones ", and " The Last Voyage of the Devil's Wheel ". At fourteen, Keram was nominated for a Dora Mavor Moore Award in the category of Best Male Lead in a Musical for his performance in the Young People's Theatre production of "The Prince and the Pauper". And later that year played one of the princes in the company's production of "Richard III".
Shortly thereafter he began working more steadily in television and film with character roles in episodicals (CBC's: " Street Legal ", " Homefires ", " Hangin' In ", Frank Mancuso Jr.'s: " Friday's Curse ", " War of the Worlds ", "Katts & Dog", "The Edison Twins" also " Love and Larceny ", " I'll Take Manhattan " (Valerie Bertinelli, Barry Bostwick) and Donald Wrye's exxtremely controversial " Amerika " (Kris Kristofferson, Robert Urich, Wendy Hughes, Lara Flynn Boyle, Sam Neill, Cindy Pickett) among others).

After beginning his band Blue Dog Pict at fifteen, he began to lead a double-life that would broaden his range into a myriad directions, including producing records, scoring films, writing novels, performance art, filmmaking, computer programming.
During his eight year tenure with Blue Dog Pict Keram took on a myriad new personas which he used as vehicles to promote his radical ideas about gender politics ( Natureboy is a Drag Queen ) technology ( Robot Pride Day ) social politics ( The Systematic Slaughter of the Middle Class , Entartete Kunst , Clubfoot and Pregnant: A New Lesson in Robotics ) and culture ( The Lullaby Cabaret , Invention and Despairtion ). The artistic community both admired and reviled his outspoken work and fans of the band showed up in full dress code, bringing their own adonemtns with which to transform the many venues the band played. Keram affectionately dubbed this community "Sky Pirates" and the world was introduced to them via interviews with the New Music on MuchMusic as well as Global TV, and CFTO. Keram and his peers published their ideas in a magazine " Natureboy " distributed to Sky Pirates and the industry alike via a newsletter which he published with his friend and co-writer Scott Montgomery. In later years Keram would be invited to speak on panels concerning technology and music for the Toronto Star and the North by NorthEast music conference among others.

While in his last year of high school at Michael Power in Toronto, Keram landed a role in a new series coming out of England called " Catwalk ". He was hesitant to commit to the project feeling that his real life music career already allowed him to delve into his musical sensibilities, and finally, after a year of holding out, decided to take a crack at the show, feeling that it would do less harm to take on the project than to pass it up. At best it helped pay for the production of his band's records as well as financing his new fangled record label. At worst, the public's ability to distinguish between his campy Blue Dog Pict personalities and his Catwalk image became a burden and he finally quit the television series after a year, feeling it had served it purpose and that it was time to move on.
In 1994, MuchMusic, Canada's answer to MTV received the biggest request in its 10-year history for Blue Dog Pict's video "Tainted". Fans of the band would not let their movement be ignored.

Over the course of the next two years Keram appeared in several episodicals on television (" Tekwar ", " Nancy Drew ", "Ready or Not") and feature films, some which could be argued he took on to be able to finance his record label these include two pictures for Norstar " Boulevard " (starring Rae Dawn Chong, Kari Wurer 1995) and " No Contest " (Andrew Dice Clay, Shannon Tweed 1995). He also played a female transexual in the 1995 film " Skin Deep " which won the people's choice award at the Berlin Film Festival that year, despite the fact that it was met with great controversy wherever it opened.
Recent Television and Film Appearances
Keram's television appearances in 1999 included lead guest appearances in Silk Stalkings (episode: "A Clockwork Florida Orange") and L.A. Doctors for CBS (episode: "Been There, Done That"), Buffy the Vampire Slayer (episode: "Earshot" which was never aired due to the Columbine massacre), ER (episode: Last Rites).
Keram plays the role of a neo-nazi skinhead in New Line Cinema's " American History X " (starring Edward Norton, Eddie Furlong, and Fairuza Balk, Elliot Gould, Beverly D'Angelo). and most recently, the role of Rupert in ' Drive Me Crazy " (Melissa Joan Hart, Adrian Grenier, Ali Larter, Keri Lynn Pratt) for 20th Century Fox. He also played the role of Timmy in October/USA Films' feature ' Cherry Falls ' also starring Brittany Murphy (Clueless, Drop Dead Gorgeous) and Jay Mohr (Jerry McGuire, Go). The film, described as a black black black comedy by director Geoffrey Wright (Romper Stomper) premiered on the USA Network in October 2000 and has since rightfully earned cult status with its release on DVD/VHS.
In 2001 Keram played the role of Jasper in New Line's 'Happy Campers ' with Dominique Swayne (Lolita), Brad Renfro (Apt Pupil) and MTV VJ/supermodel James King. Keram also co-starred in 'crazy/beautiful' (Kirsten Dunst) for Touchstone Pictures and the role of Freddy B., a hacker who works for a cable network in Nick Cassavetes' ' John Q ' starring Denzel Washington, Robert Duvall, Anne Heche, Ray Liotta and James Woods. 'John Q', distributed by New Line Cinema represented Keram's third project for the Time-Warner company. He also played the role of Larry Rogow on Fox's critically acclaimed thriller '24' in the episode '2:00-3:00AM'.
In 2002 Keram starred in the feature film ' Global Heresy' opposite Peter O'Toole, Joan Plowright, Martin Clunes and Alicia Silverstone. The Canadian/British co-production is about the number one band in the world taking a sabbatical at a mansion in northern England where many hijinx ensue. Keram plays the role of Flit, the band's lead guitarist and temporary lead-singer. It is available in the US under the title 'Rock My World'.
Keram played the role of Lucas Farr on 'The Guardian' (CBS) in the episode 'Shame'. 2003 also saw Keram finally fulfill one of his life-long dreams - that is - not only to meet one of his cinema idols, namely Peter Greenaway, but to go to Italy to work with him, playing the role of Virgil de Selincourt in the ambitious Greenaway trilogy 'The Tulse Luper Suitcase'. Keram also placed a track on the soundtrack for the film 'Uptown Girls' (Brittany Murphy), and was then later asked by Murphy to do a cameo in her next project 'Little Black Book' (Holly Hunter, Julia Roberts). The short film 'Something In Between' directed by Zack Adler and starring Keram in the role of John Strong played at the IFP film festival in Los Angeles and later as part of the 2004 Sundance short film schedule.
2004 also saw Keram guest star as the character "Jamal" on Bruckheimer's number one rated show CSI: Crime Scene Investigation for CBS, and in 2007 Keram played "Razor" on TNT's Saving Grace.
In 2008 Keram shared a kiss with Winona Ryder when he returned to work for Daniel Waters in Sex and Death 101 and he will create the role of Ink in the Marvel Comics feature Punisher: War Zone for Lionsgate Films.
Keram in his band Blue Dog Pict's video "The Cost of Admission"
Keram dusted off his guitar after a year-long sabbatical to play under his own name backed by the as-yet-undefeated Ear Defenders featuring John Sharkey (bass guitar) and Colin Gray (drums). They became regulars and crowd favorites at Hollywood's best-kept secret: The Hotel Cafe. In February 2004, the band renamed itself Here There Be Monsters and shortly thereafter joined a bill with The Used, Good Charlotte and Story of the Year at the Concert For Compassion to protest animal cruelty in testing labs.
Aside from producing records for Blue Dog Pict , Ribcage , and Automated Gardens he has produced music for Taylor Bryon, Erin Ann Scott, Buena Vista, MGM, Nettwerk Records, MTV, CBC, Motorola, the Las Vegas magic show 'Night Madness', Sony Playstation, EPCOT center and a variety of animated and independent films and theater, including the acclaimed animated short 'So-Lo' and the original Young People's Theater production of "The Short Tree and the Bird That Could Not Sing".

In 2008 Keram released his solo acoustic debut album "Box." The process of recording the album is documented in his YouTube webisodic series entitled "Rock Soup." "Box" often confused reviewers for being such a quiet and delicate departure from Keram's more dynamic earlier releases, and yet it has amassed some very positive reviews. The album was on CDBaby's Top Seller list for over two months upon its release and continues going strong.
While Keram continues to write music with various projects (which in the past have included Ribcage, Blue Dog Pict, Automated Gardens, the river Secrets) and under various other aliases, he has recently completed his first novel, a decade-long labour of love entitled " True and Selfish Prophets " and is presently working on a follow up. A book of his lyrics, poetry and short essays, " The Cost of Admission: A Compendium of Lyrical Intent Poesis and Essaies ", will be published by Constant Change Publishing in Fall 2009.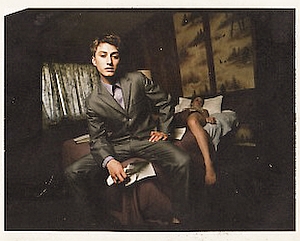 Some notable media events: He spoke out about Napster and online music distribution to the Toronto Sun in an interview with Jim Slotek; the article also featured commentary by Chuck D. of Public Enemy and Courtney Love . Keram was also featured in the October 2000 issue of Detour magazine - an issue dedicated to cross-over/multi-disciplinary artists. He also appeared in the June 2001 issue of Stuff magazine In 2006 he was invited to speak at the Career Day conference for the National Association of Broadcasters convention in Las Vegas.

His work continues to provoke and raise questions.
---
Find out more about Keram's acting career at the Internet Movie Database
Visit Keram's official music site at keramsongs.com to stream dozens of exlcusive tracks and get the latest news.
Listen to Keram's podcast at KeramCast.com or search for "KeramCast" in the iTunes store to download the latest episodes to your ipod absolutely free!
Get Keram's latest Twitter updates at http://twitter.com/ConstantChange